Advanced Copywriting Secrets For Website Copy, Video Presentations & Direct Mail
Words sell, there's no getting around it! And no matter whether your copy is presented through your website, via a printed direct mail letter, or an online video presentation – there are some key copywriting secrets that will *always* apply.
Review the various guides below for a crash course in advanced copywriting:
The Ultimate Salesletter Toolbox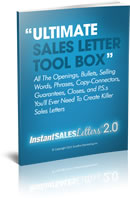 This comprehensive guide includes all the openings, bullets, selling words, phrases, copy connectors, guarantees, closes, and PS's you'll ever need to create profit-pulling salesletters.

---
Advanced Guide To Creating Jaw-Dropping Offers
That Prospects Can't Resist!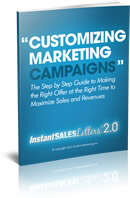 What exactly is your offer? It's more than price, that's for certain! Your offer includes payment options, quantity of product for price, bonuses, guarantee, and urgency drivers. In this comprehensive guide, you'll get an overview of a series of compelling offer structures that you can test to your market!

---
How To Create A Fortune In Your Business With Powerful Direct Mail
Learn the secrets to branching out into direct mail promotions! Includes secrets to renting mail lists, writing an attention grabbing letter, and printing and mailing it for windfall sales.

---
How To Use Lumpy Mail And Grabbers To Skyrocket
Your Direct Mail Response Rates!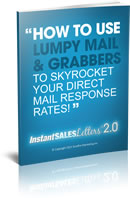 Every received a freebie in the mail with a direct response letter? They're hard to resist opening, aren't they? Well, in this fast-read guide, you'll learn the secrets to creating lumpy mail and grabbers – direct mail promotions that your prospects will eagerly open and read.